The Day by Day Club is open for in-person meetings effective Wednesday 1/20/2021.
See "Club Meeting Schedule" for
current in-person meetings.
The Day by Day Club still has online Zoom meetings.
See "Zoom Meetings Schedule" for current meetings.
The Club is self supporting, we have begun paying
rent again and of course utilities.
We want the club to be here when this is all over.
Please "PASS THE BASKET" at all meetings and please
keep those donations coming,
they are very much appreciated
with:
July Income: $2,028, July Expenses $2,275″ to
"August Income: $1885, Expenses: $2550
The Day by Day Club was founded in 1974.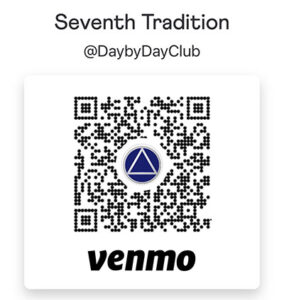 Ways to Donate:
– Mail a Check to: 1803 St Johns Ave, Highland Park, IL 60035
– Submit Donation via Zelle: daybydayclubhp@gmail.com
– Submit Donation via Venmo: SeventhTradition@DaybyDayClub
– Cash Donations in Basket at the in Person Meetings